Coaching
for business
Team building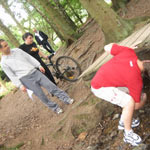 The head, legs and heart! Thinking, acting and feeling! Each word is essential to the proper functioning of your company as well as the people who work there!
We're offering you an exceptional, internationally renowned space and environment, the Spa region. Are you looking for an original form of team building, that brings together challenge (accessible to everyone), communication and team spirit?
Then you're in the right place!
A fun physical activity
What do you think of ending training or similar work activities with a fun physical activity? Mornings or afternoons are available, depending on the circumstances and your needs. Put your staff to the test, in a spirit of good humour, with respect to destabilisation, communication, reaction, imagination, interpretation, effort and the feeling of overcoming a challenge!
We usually offer afternoons for outdoor activities but we are of course attuned to your needs.
A made to measure service:
Training and seminar room
Welcome breakfast
The choice of a midday lunch or a meal at our in-house restaurant
Everything is possible, but nothing is obligatory!
Even in winter, we take advantage of the Spa woods for various activities.
At the end of your slightly physical challenge, we invite you to discover one of the unique aspects of our concept.
We invite you to relax and end the day according to your wishes in the splendid infrastructure of the Spa's baths, which are composed of the pleasant thermal baths, saunas, steam rooms, and Jacuzzis, once again with no obligation.