Coaching
personal
Pilates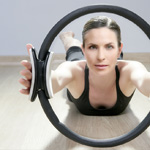 Since the year 2000, the Pilates method has been considered a physical activity unto itself, taught and practised the world over. Its technique, the core part of which is known as "Contrology", refers to the ability to use the mind to better control the muscles!
This method was named after Joseph Pilates, who was born in Germany. He was a prisoner during the First World War and developed an exercise method in his cell. After he was released, he opened his first gym studio in 1926.
Philosophy and principles of Pilates
Physical Practice and Mental Discipline. Just like yoga, the Pilates method is a global approach aimed at developing the body in a harmonious manner, correcting bad posture and restoring physical vitality.
This discipline is composed of 8 fundamental principles (Concentration, Breathing, Centring, Mastery of Movement, Precision, Respiration, Isolation and Frequency) and 35 movements dedicated to physical and mental well-being.
Practice
The Pilates method consists of adopting postures and performing movements in a precise order. The goal is to use, in alternating order, all the muscle groups, sometimes in unusual combinations, with particular emphasis on the lower torso (abdominal and gluteal muscles).
Who is the Pilates method for?
The Pilates exercises are intense but gentle: there are no abrupt movements or shocks of impact. This method is therefore suitable for everyone.
It's for those who do not take part in sport just as much as it is for those who do so intensely.
It's for stressed or tired people, those suffering from stiffness, pregnant women or women who've recently given birth, elderly persons and those with injuries or who are in recovery.
It's for all those who want to maintain their fitness and physique without hurting themselves.
The benefits of the Pilates method
There are both physical and psychological benefits, because Pilates:
alleviates pain and strengthens deep muscles, by properly realigning the hips and back and improving posture
refines physique by toning weak muscles and relaxing those that are stiff
increases flexibility by stretching the muscles and increasing the joints' range of motion
improves breathing by allowing for slower and deeper breathing
corrects posture by teaching how to use proper movements on a daily basis
limits the effects of aging and improves coordination